37 dead in Davao City mall fire
ROCAYA SUMNDAD OTICAL YAHYA
Iligan City, Philippines |December 25, 2017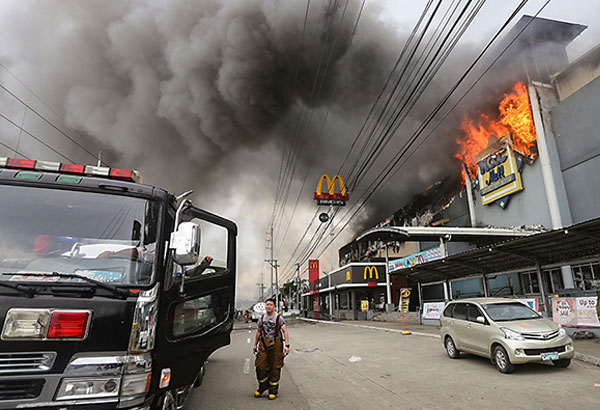 A firefighter stands in front of the burning NCCC Mall in Davao City on Saturday. AFP
At least 37 people are believed to have died in the fire that razed down a shopping mall here Saturday morning even as local officials said those t
rapped in the fire has no chance to survive.
Firemen found one body believed to be a staff of American firm SSI as the blaze was brought under control, President Duterte's daughter and Davao City Mayor Sara Duterte-Carpio told reporters.
Davao City Police Office Director Senior Superintendent Alexander Tagum said the body was found inside a toilet on the fourth floor of the mall where the SSI call center was located
Carpio said firemen have concluded that all those trapped in the building are dead. "They assessed that no one would survive in that heat and with that thick, black smoke," Carpio said.
The fire broke out while the city was also being battered by Tropical Storm Vinta, which caused flooding and forced residents to evacuate.
The President, who has been mayor of this city for a long time before he became Chief Executive, broke down in tears as he visited distraught relatives outside the burning building to personally tell them there was "zero" chance their loved ones had survived.
Reports said the blaze started at the four-story NCCC Mall at around 9:30 a.m. on Saturday, sending thick plumes of black smoke billowing into the sky, and was under control at 8:20 a.m. Sunday.
Built in 2003, the mall is one of the city's first big establishments owned by the Lim family.
In consoling the relatives of those missing, the President was joined by Catholic Bishops' Conference of the Philippines president and Davao Archbishop Romulo Valles, Carpio, son and Vice Mayor Paolo Duterte and presidential special assistant Christopher Go, priests, nuns, fire officials and local government personnel.
In a statement, presidential spokesman Harry Roque said "our thoughts and prayers" are with the families of those missing.
Roque said the President went unannounced on Saturday night to assure the relatives of the victims that the government would extend help.
"The Bureau of Fire Protection is currently determining the cause of the fire and the extent of the damage. Let us include them in our prayers in this moment of grief," Roque said.
The NCCC Mall management, for its part, said it was deeply affected by the incident that "caused lives to be lost."
"We have been in constant coordination with the BFP ever since the incident broke out. As of this time, the fire fighting and retrieval operations are still ongoing," the management said.
"NCCC is also awaiting for the official report from BFP. Rest assured every effort is being exerted to keep everybody informed. Details will be released in a press briefing right after BFP declares fire out and releases their official report," it added.
President Duterte's eldest son and Vice Mayor Paolo Duterte also wrote on Facebook that fire officials had told him there was "zero" chance of anyone trapped surviving the blaze. (With stories from agencies)